Cruise Liners
---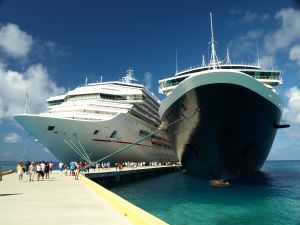 Taking a holiday on a cruise liner is one of the fastest growing holiday types in the travel sector and if you are looking at going on a cruise then your options are almost endless. Cruises are by no means the cheapest type of holiday and in some instances they carry a fairly hefty carbon footprint (sometimes greater than flying!). If you're trying to keep your carbon footprint to a minimum then a trip on a cargo ship is a far better option than a cruise. Having said that, if you're looking for a relaxing holiday there is no doubt that a cruise is a fine way to travel.
To be honest we did think twice about even featuring cruises on our website as so many of them disappointingly include flying at the start or end of the holiday (a major sin when it comes to slow travel!). However, no-fly cruises are increasing in popularity and cruise ships can offer some useful routes for those looking to travel around the world without flying. Thomson has a handy directory where you can specifically search for a number of no-fly cruises.
Around the World
For those of you looking at travelling around the world it's easy to overlook cruise liner options but there are some great connections across the great oceans that are worth considering along with the useful links through the Panama and Suez canals. If you are looking at using cruise liners to help you around the world then as with cargo ships this is one area of travel where there is limited flexibility so it's important to plan ahead so that you know departure dates and key cruise ports.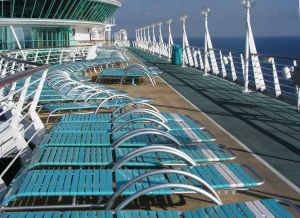 Budget Travel Options
For those of you travelling on a budget, the best cruise deals are often connected to the "repositioning" of cruise liners which usually take place in the spring and autumn as the cruise liner follows the good weather. As with everything in life you get what you pay for so these cruises spend longer at sea and less time at ports as the operators are moving them from one core tourist destination to another. Key repositioning routes include passage between Alaska and the Caribbean and between Europe and the Caribbean. Other repositioning cruises occur between Europe and South America, Europe and South Africa, Middle East and Asia and also North America and South America. If your interested in taking a repositioning cruise they are usually found in the deals section of most operators websites (but are rarely called repositioning cruises!!), is a good place to start your search.
Cruise Ship Jobs
For those of you travelling with no budget at all don't forget that most cruise ships have a very large staff quota so you could always get a job on a cruise ship. They want all sorts of people from chefs to entertainers to waiters to cleaners so looking at getting cruise ship employment, rather than searching for cruise deals might be a good way to go. There are a few websites that specialise in cruise ship jobs, we have listed a few below;
Useful Website for Cruise Ship Jobs & Employment;