Cargo Ship Travel
---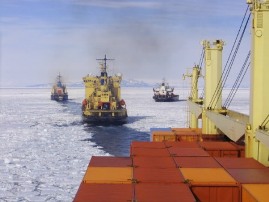 Cargo ships often act as passenger ships and offer real travel alternatives under the banner of freighter cruises, however travel by cargo ship is often more expensive than you might expect, regularly costing about the same as a cruise ship! So you might wonder why you would want to travel on a cargo ship as a passenger in this way. There are several good reasons;
Cargo ships often cover less touristy parts of the world which are not serviced by cruise ships
Not only is it real travel but it's one of the greenest forms of travel as you form a very small part of the container ships total cargo
Cargo ships travel throughout the year unlike cruise ships which are influenced by passenger demand, this means that cruise ships often only sail in the high season (usually the summer)
When you are a passenger on a cargo ship you usually get to dine with the captain of the ship and his officers
The standard of passenger accommodation is generally very good with most cargo ship passenger cabins having their own toilet and shower (you don't have to sleep in a container!)
Cargo ships usually accommodated just 12 or fewer passengers (a doctor is required for more than this), so the cargo ship is not going to be over crowded with other passengers
There are quite a few websites out there which specifically focus on alternative travel by cargo ship, we have listed all the sites that we are aware of. To save you time trawling through all the websites below, email us at [email protected] and we will forward your query to select agents who can help you book your freighter trip, if the route you want to do is possible.
Although the sites below offer some very useful information we would also recommend phoning the harbour master for your preferred passenger departure point. They will often provide you with local contacts and up to date and local information.
Useful Websites
US agencies booking passenger travel on cargo ships are: freightercruises.com & travltips.com
UK agencies booking passenger travel on cargo ships are: Cargo Ship Voyages, Strand Travel, The Cruise People Ltd, Pathfinder & Sea Travel Ltd
Other agencies booking passenger travel on cargo ships are: cross-ocean.com, freightertravel.co.nz/ & cargoshipcruises.nl
CMA CGM is a French cargo transportation and shipping company and is the third largest cargo shipping company in the world. - www.cma-cgm.com, you can book direct or via several of the agents listed above
German freighters, Hamburh SED, have a useful website that details numerous routes and prices for cargo ship travel around the globe. - www.hamburgsued-frachtschiffreisen.de
Italian freighter company, Grimaldi Line - covers routes to and from Europe to South America and Africa. www.grimaldi.co.uk/, Pathfinder (www.safemariner.co.uk) and Cruise Cyprus (www.cruisecyprus.com) act as agents for Grimaldi Line
German freighter company, Rickmers-Linie with cargo ship travel routes around the world. - www.rickmers-linie.de
Another German freighter company, Deutsche Afrika Linien (DAL) (www.dal.biz/) have a cargo ship (Kalahari) that sails between Bremerhaven and Cape Town, again Pathfinder (www.safemariner.co.uk) act as agents
Neptune Orient Lines (NOL), global cargo transportation company centred in Singapore. - www.nol.com.sg
FAQ's & general information on passenger travel by cargo ship: Gonomad.com, Seaplus.com, A la Carte Freighter Travel & Freightertrips.com
Featured Routes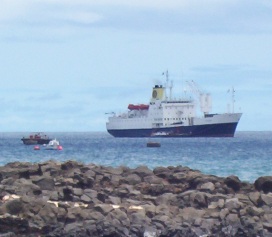 There are a number of popular passenger ship routes on cargo ships, we have featured a few interesting ones below to help inspire you to take a trip which is a real travel alternative to traditional modes of travel.
TransPacific
The South Korea (Busan) to California crossing on the Hanjin Dallas cargo ship was featured on the BBC series "Around the world in 80 days" for Children in need (2009). The crossing should take ten days but departure times are unpredictable. There are a number of other cargo ships which carry passengers and cross the Pacific Ocean which are detailed in some of the web sites listed in the above section. Contact details for Hanjin can be found on their website www.hanjin.com.
The Royal Mail Ship St Helena
This is sold as a magnificent island cruise from Cape Town to the island of St Helena in the Atlantic Ocean, just south of the Equator. This cargo/passenger ship also calls in at Luderitz and Walvis Bay in Namibia where the desert meets the sea. Go to www.aws.co.uk for more details.
French Polynesia
Sail around Tahiti and the Marquesas islands over 14 days on the Aranui www.aranui.com. The Aranui is a mixed passenger/cargo ship which offers comfortable, air-conditioned accommodations for about two hundred passengers. Passengers are able to sunbathe on deck and swim in the pool. The ship operates under the French flag, and her crew are all local Polynesians.
---